VINEYARD PARTNERS
---
Acrobat wines are sourced from a spectrum of Oregon vineyards, spanning the three classic Western AVA's – Willamette Valley, Umpqua Valley and Rogue Valley. Each vineyard and AVA have distinct characteristics and provide their own flavor. This diverse geographical selection was done by design, giving Acrobat wines a balanced flavor profile of the state of Oregon. The map below is a sample of our partnering vineyards.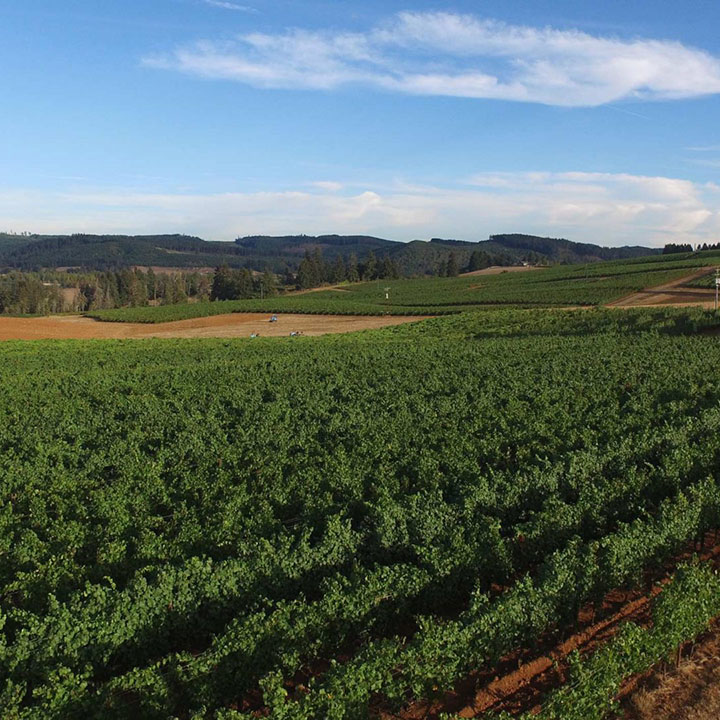 KING ESTATE
---
The estate's location along the 44th parallel is shared by such famous wine-growing regions as Bordeaux, France, and Tuscany, Italy. At an altitude of 740 to 1,200 feet above sea level, and with the west-east canyon formed by the Lorane Valley, the estate's grapes benefit from long summer days with optimal ripening conditions, and cool evening temperatures moderated by the prevailing Northwest winds that roll in from the Pacific Ocean. Ideal weather conditions are complemented by the site's slope and the Bellpine and Jory clay-loam soils – rich in iron, well-draining and with excellent moisture retention requiring no additional irrigation.
King Estate has 1,033 Biodynamic®-certified acres in southwest Eugene at the southern tip of the Willamette Valley AVA. A working farm, King Estate has 465 acres under vine: 143 of Pinot Noir, 314 of Pinot Gris, and the balance in other grapes. Another 26 acres feature orchards, gardens, lavender and bee hives. The estate has been certified organic since 2002 and was certified by Demeter USA as Biodynamic in 2016, making King Estate the largest Biodynamic vineyard in the U.S. (Biodynamic farms operate as holistic, self-sustaining ecosystems.)
In 2016 the estate celebrated its 25th anniversary. It is owned and farmed by the King family to this day.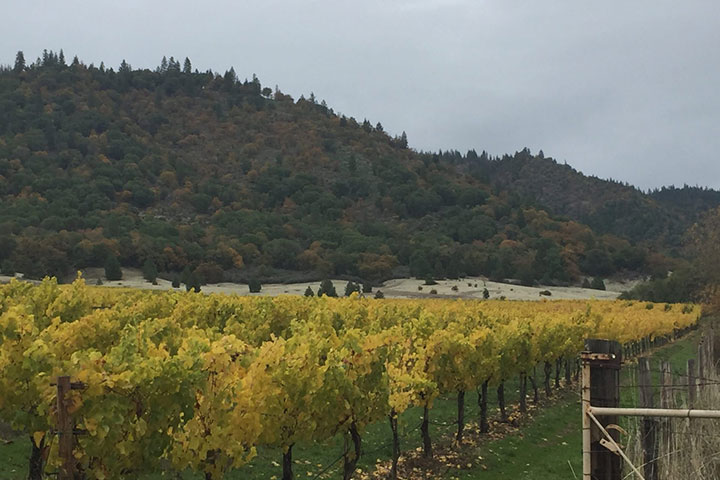 LAYNE VINEYARD
---
Roger and son Cameron Layne own this 35-acre vineyard in Grants Pass, Oregon. The property was purchased by Roger and the late Barrie Layne in 1972 and planted with Chardonnay, Merlot and Cabernet Sauvignon in 1974. Today, with 28 acres under vine, the Laynes have added Riesling, Pinot Noir and other varieties of grapes. The vineyard sits on graceful slopes deep in the Illinois Valley of the Applegate Valley AVA, a sub-AVA of the Rogue Valley. The climate is warm and dry with cool nights at an elevation of 1,550 to 1,700 feet.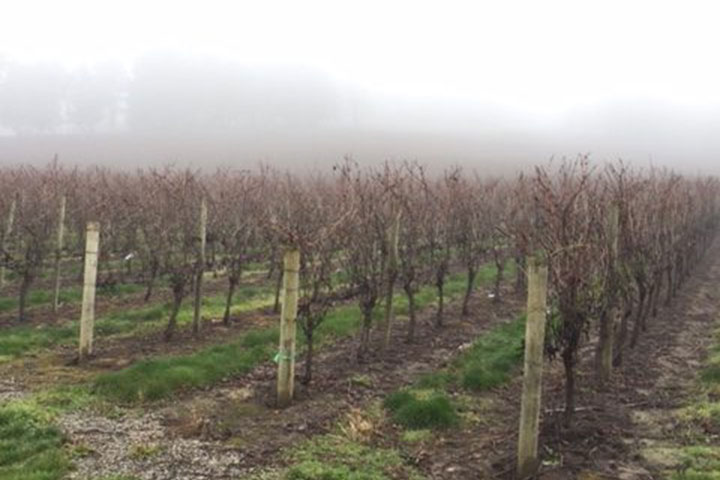 CASCADE VINEYARD
---
Established in 2013, Cascade Vineyard is a cooler site in the Willamette Valley located just outside Silverton. We source fruit for Acrobat from their 26 acres that is planted to Chardonnay. The soils mostly consist of Amity silt Loam and Holcumb silt loam. We see beautiful acidity and fresh fruit flavor coming from this site.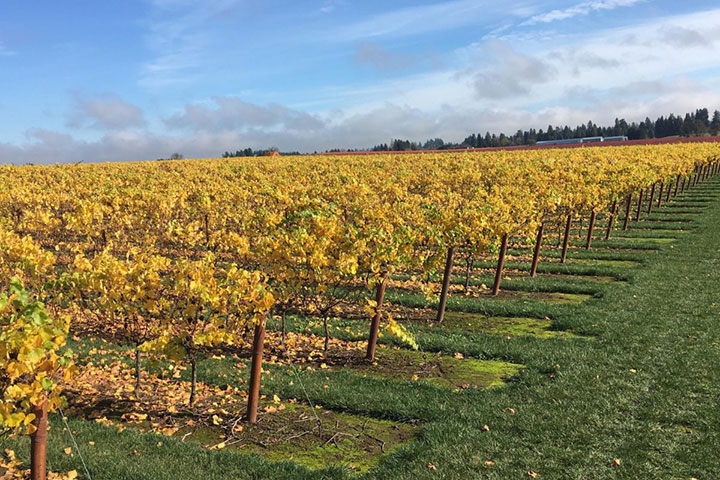 NURSERY ROAD VINEYARD
---
---
This Willamette Valley vineyard is located in Cornelius, Oregon, and features 15 acres of Pinot Noir. The vineyard features a classic Willamette Valley climate with the mild temperatures and elevation between 190 and 226 feet. Grower Alan Jesse first established Nursery Road in 2009.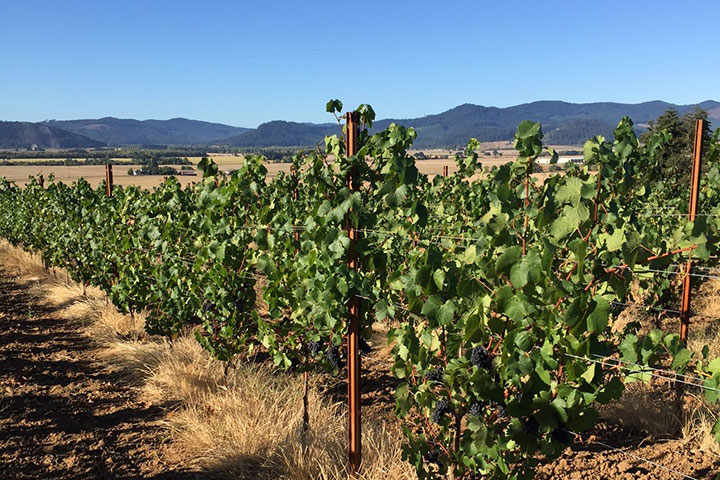 KENNEL VINEYARD
---
Grower Jeremy Kennel's family has farmed in the Willamette Valley for five generations. The vineyard is situated halfway between Corvallis and Monmouth on farmland purchased by the Kennel family back in 1962. (The site was previously home to Camp Adair, a massive Army training camp established in 1942 and decommissioned after World War II.) The family decided to diversify into grapes in 2007, planting on a south-facing slope that benefits from warm mornings and early spring growth. Today Kennel has 25 acres of Pinot Noir and Chardonnay. We have been sourcing fruit from Kennel since 2010.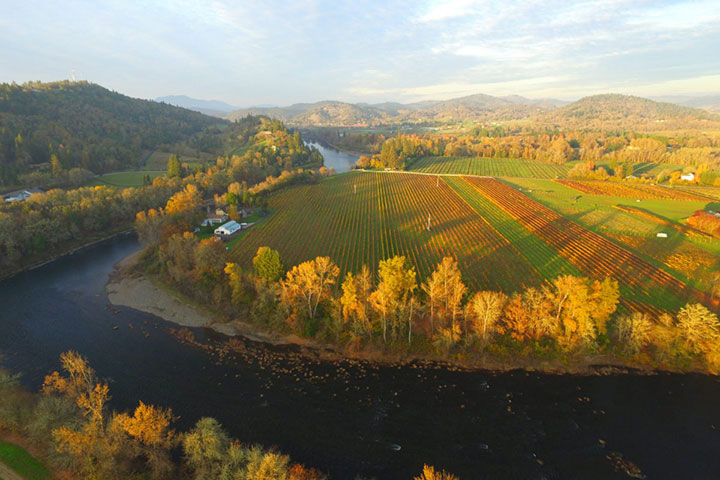 SOUTHFORK VINEYARD
---
Like Iverson Vineyard, Southfork is owned by Wayne Parker in southern Oregon's Umpqua Valley AVA. Parker, who came to Oregon in 1996 from California's San Joaquin Valley, established Southfork in 2002. It has 27 acres of vines planted in Pinot Noir, Pinot Gris and Sauvignon Blanc.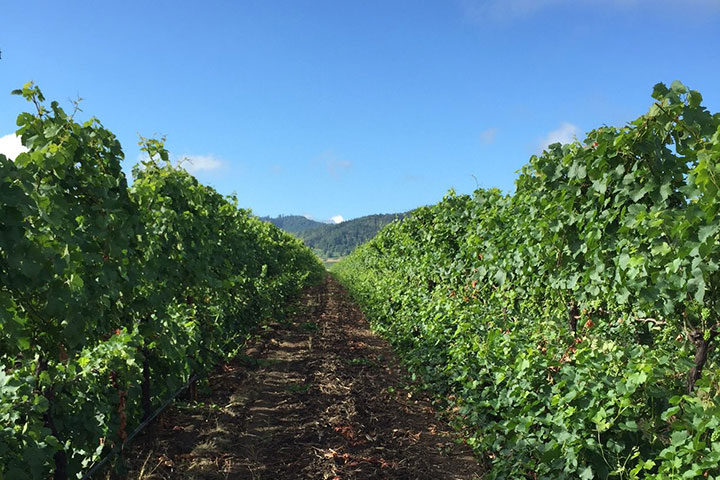 IVERSON VINEYARD
---
---
More than 100 acres of Pinot Noir, Chardonnay and Sauvignon Blanc are planted on this vineyard owned by Wayne Parker in the Umpqua Valley. Influenced by the coast more than most vineyards in southern Oregon, Iverson's climate is similar to the warmest regions of the Willamette Valley to the north.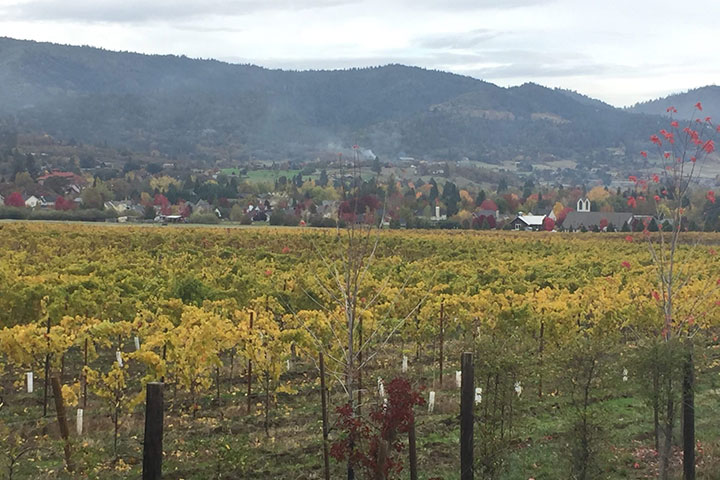 DEBOER VINEYARD
---
DeBoer is one of 14 vineyards owned by Don, Traute and Michael Moore and managed as part of Quail Run Vineyards. The most prominent producer in southern Oregon, Quail Run is known for producing wines in the Rhone, Bordeaux and Burgundy style. Acrobat partner vineyard Crater View is also part of the Quail Run family. Located just outside Jacksonville, Oregon, DeBoer has 14 acres under vine, all planted in Pinot Noir.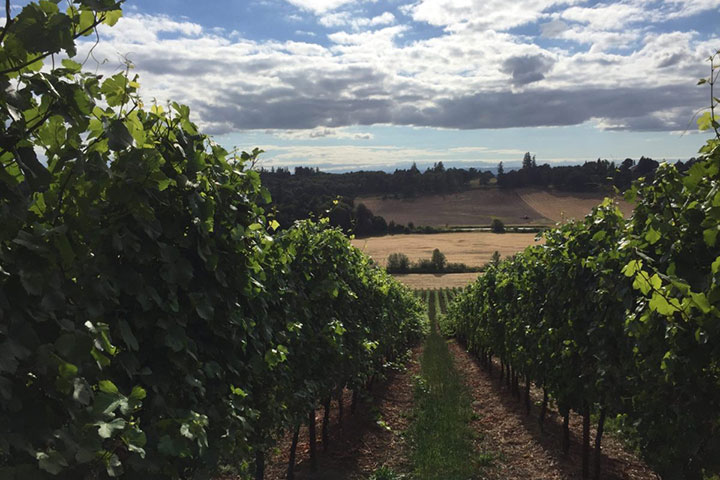 NEKIA HILL VINEYARD
---
Nekia Hill Vineyards is in Silverton, Oregon, a cooler region of the north Willamette Valley with a climate well suited for Pinot Noir and Pinot Gris. The vineyard has 89 acres "under vine." It was established in 2006 by David Leonard.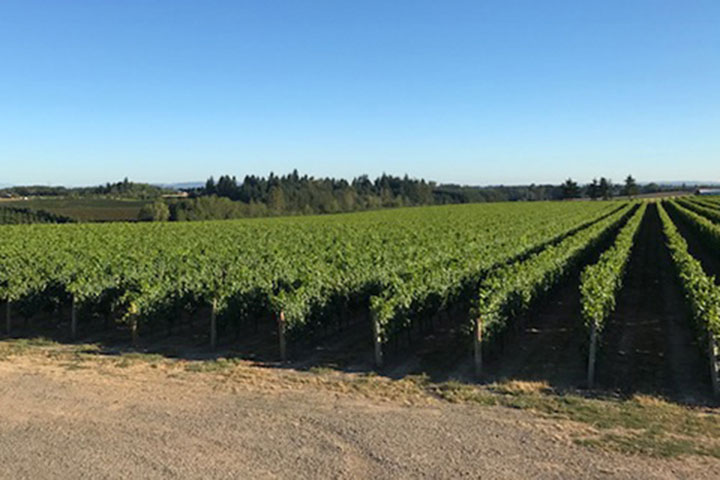 OSTER VINEYARD
---
Grower Dan Kraemer has 62 acres planted with Pinot Gris in his vineyard located in Silverton, Oregon, in the north Willamette Valley. The vineyard, established in 2007, is in a cooler-climate region where Pinot Gris thrives.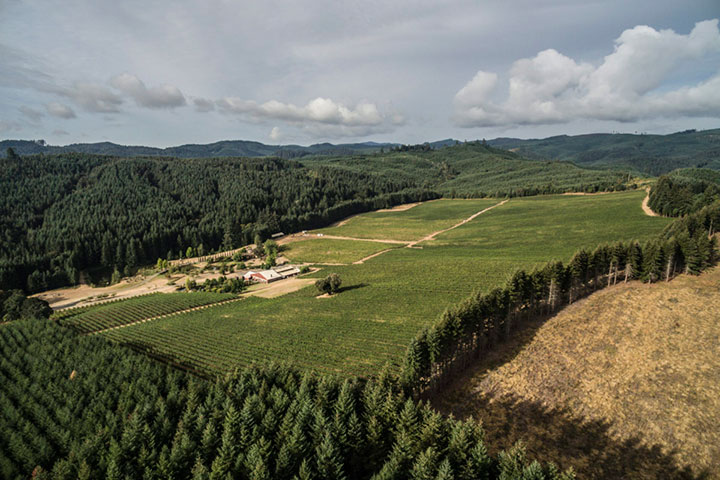 PFEIFFER VINEYARD
---
A 70-acre site located 30 miles north of King Estate in the Willamette Valley AVA, Pfeiffer was our first contracted vineyard in 1992. Planted in Bellpine and Dupee soils rich in silty clay and silt loam, the vineyard's 28 acres of Pinot Gris and 42 acres of Pinot Noir sit on a southward-facing slope and are privileged to long sun exposure during the summer months. Pfeiffer is considered a warm site for Oregon. The vineyard was planted by the Pfeiffer family in the early 80's.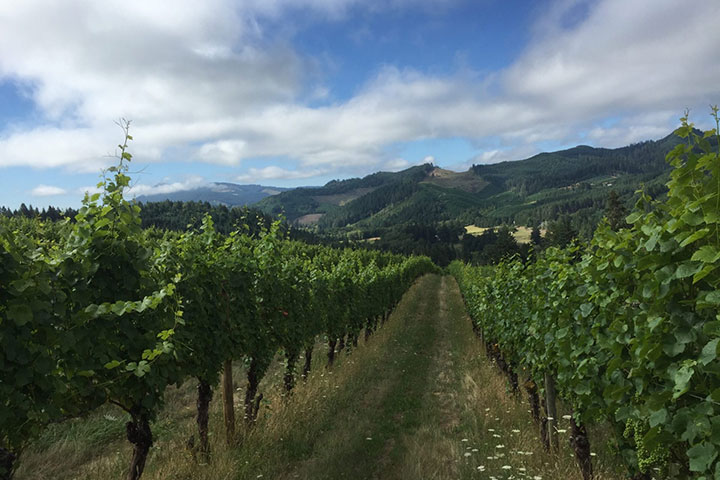 REBECCA'S VINEYARD
---
---
Rebecca's Vineyard in Yoncalla, Oregon, has 21 acres planted in Pinot Noir, Pinot Gris, Chardonnay and other varieties. The site in southern Oregon's Umpqua AVA is cool for the region due to coastal influence. The vineyard was established in 1990. Grower is Sophie Lerro.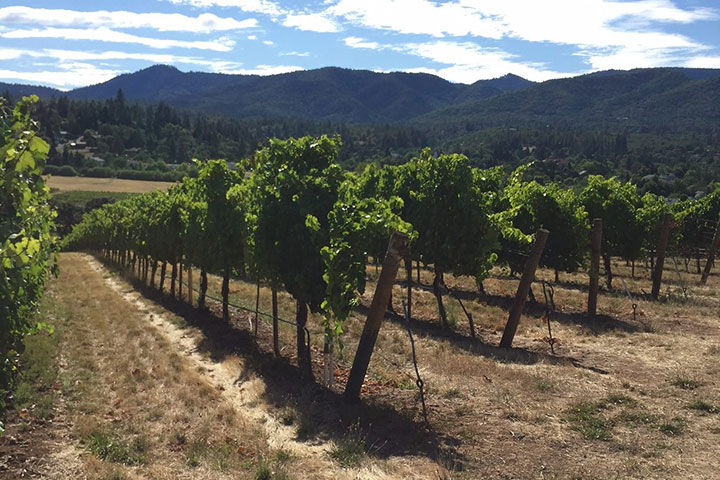 CRATER VIEW VINEYARD
---
Established in 2006, Crater View Vineyard is owned by the Moore family and is located just outside Jacksonville, Oregon, in the Rogue Valley AVA. Southern Oregon is best known for producing warm-weather grapes – similar to France's Rhone Valley or Burgundy. At an elevation of 1,500 to 1,675 feet, the vineyard is higher than King Estate (800 to 1,100 feet). Crater View grows Pinot Noir and Pinot Gris on its cooler, north-facing slopes.